The pipes are bursting
1/10/2019 (Permalink)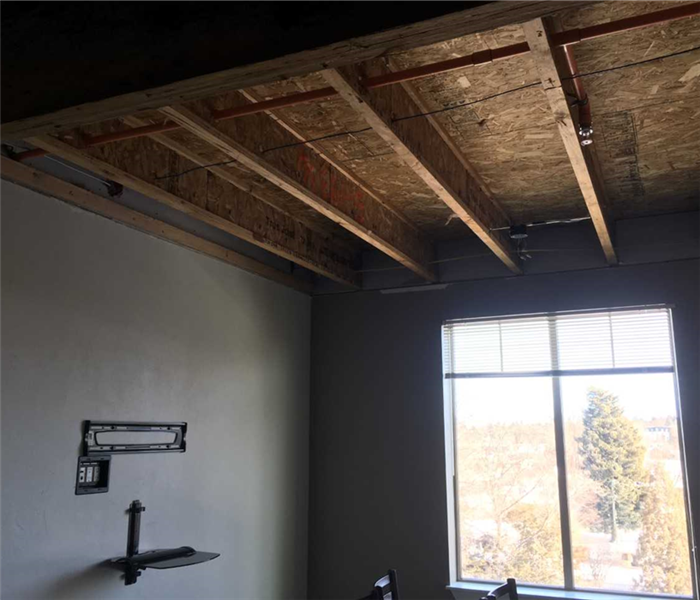 Here our guys are getting prepped and ready to start reconstruction after a water piped burst in this home. During the winter months it is very common for water pipes to burst. There are however ways that may help to prevent this terrible problem. For example, www.simplemost.com suggest these simple tips and tricks to help avoid your pipes bursting.
Make Sure Pipes Are Insulated
Exposed pipes are prone to freezing, even in warmer climates. There are a variety of ways to keep those pipes snug as a bug in a rug. One way is to add insulation to pipes around the home.
Let Your Faucet Drip
Most people see a dripping faucet as an issue that needs to be fixed. However, during the winter months, it's actually good to allow your faucet to drip just a little bit. A little bit of water flow keeps pressure low in the pipes. Low pressure, means less of a chance of those pipes bursting!
Seal Up Cracks and Leaks
Caulk should be your best friend this time of year. You want to keep out as much of the cold air as possible. Do a careful inspection of your house to determine if there are any air leaks. Places to look include near dryer vents, windows, electrical wiring and, of course, the pipes.
Open Those Doors
Whether you're home or out of town, the American Red Cross recommends keeping the interior doors of your house open. This allows the heat to move through the house more efficiently. This also helps the heat reach closer to the pipes, reducing the risk of them freezing.
Disconnect/Shut Off The Water
Another tip if you're going to out of town for a while: Consider shutting off your main water line and draining your water system. This will leave your pipes empty in the house, so no water can freeze inside of them to cause a rupture.