Be careful with that insulation
8/31/2018 (Permalink)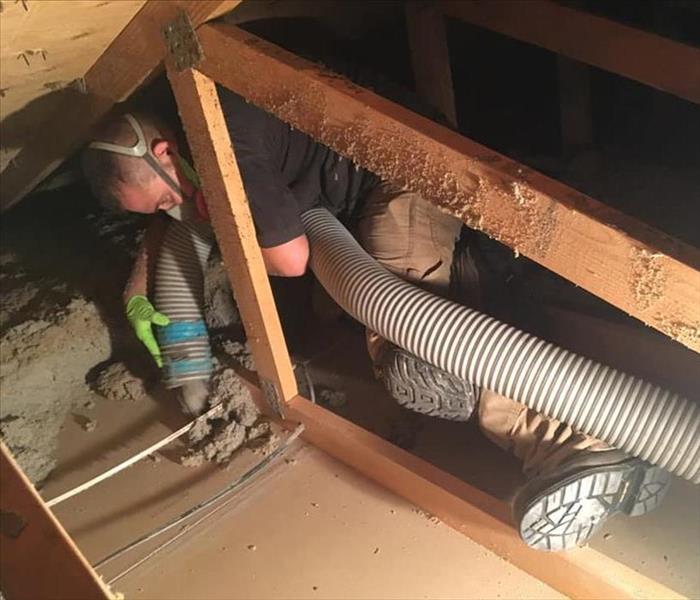 Some people are unaware how dangerous insulation in their homes. Most are careful about the amount of insulation installed, but often the type, the age, and other quality factors are ignored. Being educated about potential health, and safety, issues is an important way to protect your home and family.
Asbestos, Zonolite, and mold are all dangers that can lurk inside of insulation and all cause different threats.
Asbestosis is a serious, non-cancerous disease of the lungs that is caused by inhaling asbestos fibers. The lung tissue is irritated and scarring occurs, making it hard for oxygen to get into the blood. There is no effective treatment for asbestosis.
Zonolite
Another dangerous insulation that was produced well into the 1980s, Zonolite, was manufactured by the Grace Company. Zonolite was produced using sharp vermiculite crystals and looks like small, 1/4 to 1/2 inch puffy nuggets. The respiratory dangers are similar to asbestos.
Mold
Mold and fungus will damage and discolor the walls, floors and ceilings in homes. If left unchecked, it can damage the structural integrity of the building by eating away at the wood and drywall. It can also cause breathing problems.
There are certainly ways to avoid the dangers that come with insulation. If you do decide to make changes or upgrades to your home you will want to consider an energy efficient home renovation. That means that you will need to look into more of a simple energy solution. Including alternative forms of insulation.
If you happen to have a disaster please give us a call at (208)523-5365. We are open 24 hours a day 7 days a week for all your cleaning and restoration needs. We are on call so we can be there immediately to help you with your disaster.